So way back in the beginning of March I went up to Bangkok for a four day seminar for work.  We stayed right in the heart of downtown at the very fancy Hyatt Grand Erawan Hotel.  I actually managed to squeeze out enough motivation to do a couple workouts while I was up there and one of them was a run down to and around Lumpini Park.
I've been to Bangkok a bunch of times and I've walked around or through Lumpini at least twice for sightseeing purposes.  It is always full of people exercising (running, biking, walking, weight training, fitness circuits, and more) so I was really excited that the Hyatt was just up the road from Lumpini.  So one evening after training I laced up my sneaks and headed out with my camera.
(Note: This post is just a sight seeing expedition with all the interesting pictures I took on the run.  I posted the actual workout data back on the day of the run in this post.)
Here's a close up satellite shot of the park: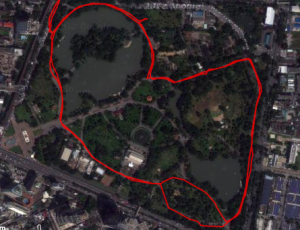 The park is on the same street as our hotel was so I just ran straight down.  To get there you go past these places: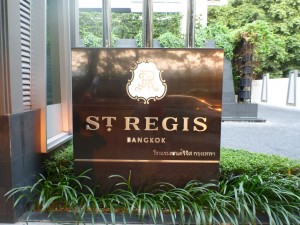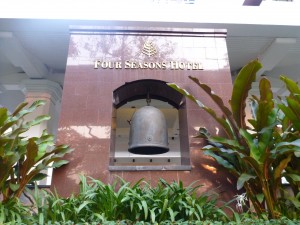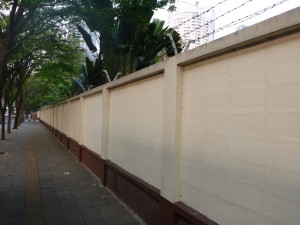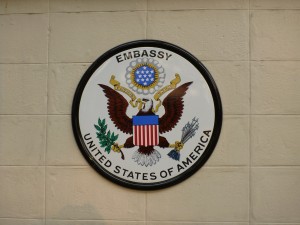 The US Embassy in Bangkok has – as you would expect – a prime location and it's huge.  It takes up almost a full block on both sides of the street and from what I can tell has impressive and landscaped grounds within the perimeter.
Cross one last intersection and you come to the perimeter of the park.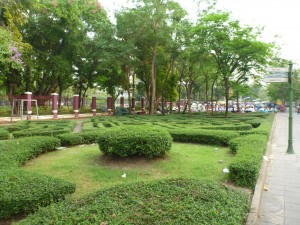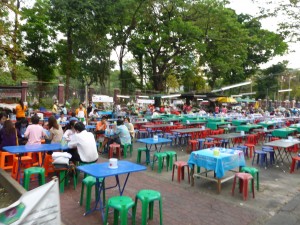 Vendors, mostly food stalls, are outside every entrance to the park.  This was a huge open air seating area surrounded by food carts selling Thai street food and beer.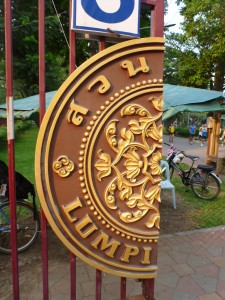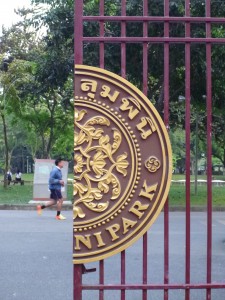 Lumpini Park is really impressive.  It is a no vehicle, no dogs, no smoking area, with a bunch of paved routes running through it.  Bikes are allowed from 10am – 3pm and there are runners or exercises of various kinds there almost all day long.
In addition, there are a ton of really cool facilities inside the park including outdoor music venues, an indoor concert and dance hall, a swimming pool, a fitness center, and a youth activities center.  In the high season the Bangkok Symphony Orchestra even does concerts here.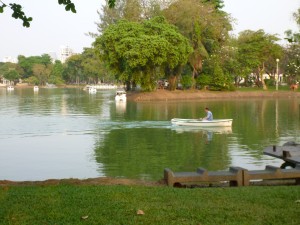 The white spots in the background of the lake picture (small lake) are swan shaped pedal boats available for rent.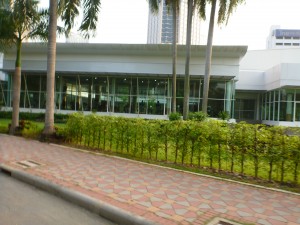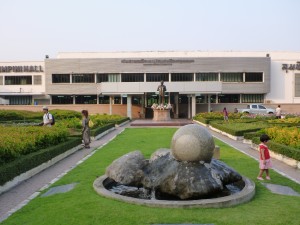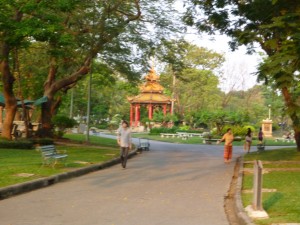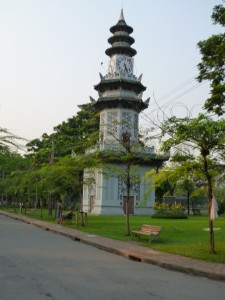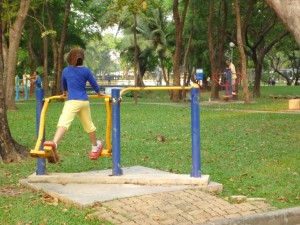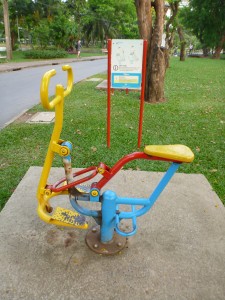 I think there are actually two different locations within the park that have these circuit training areas.  There were people in both of them.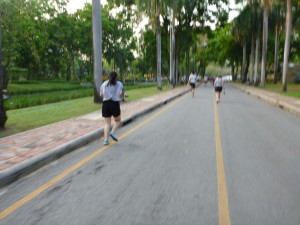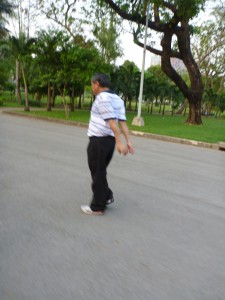 There are plenty of "real" runners or exercisers in the park but the really impressive thing is the number of folks in their normal work or school clothes who are out there walking, running or otherwise being active and enjoying the park.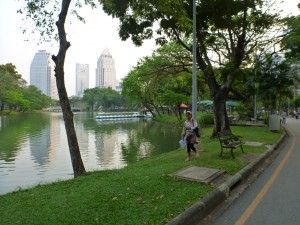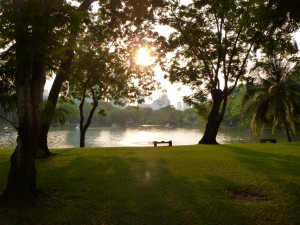 I would love to do more running in Lumpini Park especially in the morning.  There are water monitor lizards (up to 6-foot long lizards that look like Komodo dragons) that live in the lakes, ditches and small canals in the park.  Apparently if you get there early enough in the morning you can see them moving around and even walking on the paths.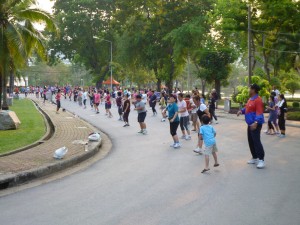 Public exercise sessions are very popular and very common in Thailand.  Pretty much any public area that is large enough for a dozen people to stand in will host some kind of aerobic dance fitness class in the evenings usually starting around 6pm after the national anthem is played over loudspeakers.  An instructor gets up front, blasts American pop/dance music out of a boombox and starts leading a class.  They're always packed.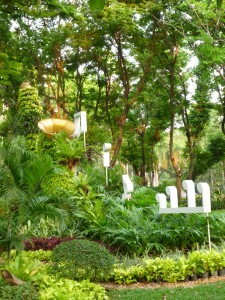 The park is full of sculptures.  I took pics of several but left them out since I was already on picture overload.  This one is of a saxaphone, which was probably chosen because King Bhumipol, the current Rama IX, plays sax.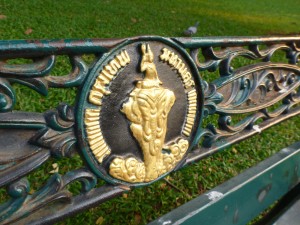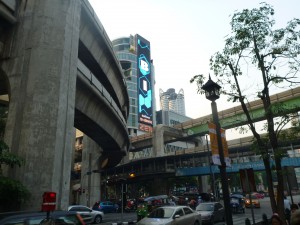 The Hyatt is in the heart of the Bangkok downtown shopping district.  The large building behind the Skytrain tracks with the giant advertising lightboard on it is the largest shopping mall in Bangkok.  I've been in there.  Trust me.  It's big.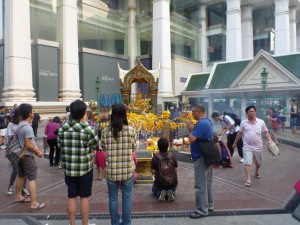 The Erawan shrine outside of the Grand Hyatt Erawan Hotel is probably the most popular shrine in Bangkok for making merit.  It is packed with worshipers (and tourists) almost all day long.  In the back under the green roofed building you can see on the right there are a troupe of traditional Thai dancers who perform classic dances throughout the day.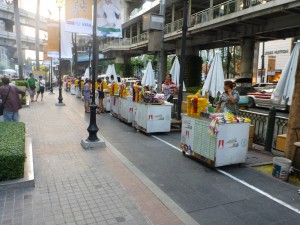 Along the sidewalk on both streets leading up to the corner the shrine is on there is a long row of vendors selling items to offer at the shrine: joss sticks, flower garlands, Buddha relics, small statues of Buddhas, elephant statues, fruit and rice packs, and even live birds.  Don't worry, you buy the birds in cages and make your offering by releasing them at the shrine.
Then a little further down Sukhumvit Road from the shrine as I was cooling down I found a huge street art fair going on.  Apparently artists from around the world were given big chunks of sidewalk and parking lot to make bizarre distorted psychedelic art.  It seemed very popular, there were lots of people wandering around, looking and taking pictures.  Including me, I guess.