I skipped my cardio again today.  Did the push-up workout though.  It was a rough one.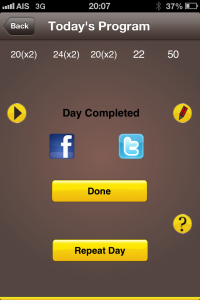 I gave myself and extra 30-seconds of rest before the final set of 50.  I would have taken ANOTHER 30, but I wasn't fast enough pushing the button and the timer ended so I went with it. Even with that I had to take a break at 27.  Got up on my knees, swung my arms a few times and took a couple deep breaths and then went back to work.
Next scheduled workout is a best effort test.  Last test was 75.  Not sure how much improvement I'll see this time, but I guess that's what the test is for right?