Went for another bike ride on Saturday.  I did the exact same loop as last weekend except that at the north end of the back straightaway I extended out to the north to see what was there and then stopped at a different convenience store at the turnaround.
Unfortunately what I found was that my quiet, rolling rural highway turns into a major commercial and industrial artery about a mile above my programmed left turn.  I'll have to do some more map and car recons to find a nicer extension to this route or possibly a new, longer loop course.
This time I did remember to charge and bring my camera.  The photos don't do justice to the scenery but I'll include them at the end to give a feeling for the route.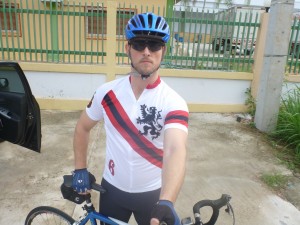 Self portrait (also known as the "last known photo" in extreme cases . . .).  The jersey was a birthday present from Twin Six.  It's called The Brew Pub.  The back has a really cool chain ring insignia on it.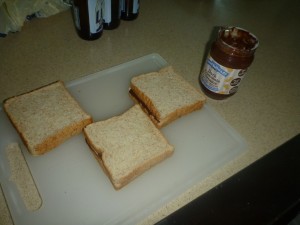 Nutrition.  I ran out of peanut butter so I was using a weired PB-combined-with-chocolate-spread-thing.  It was . . . okay.  Not as good as PB & Nutella.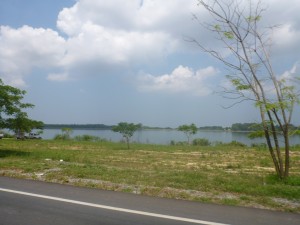 Route starts out following the shore of Mabprachan Reservoir. . .
More after the jump . . .