For me running is difficult and unnatural that this statement is true even after just a week.
I ran this evening for the first time since I got sick two weekends back.  And while it FELT okay, the same level of perceived effort was 2-minutes slower over 4-miles than just two weeks ago.  Oh, the damage done.
Another health related item of note is that over the ten days or so that I wasn't working out to to active illness or active recovery I actually lost weight.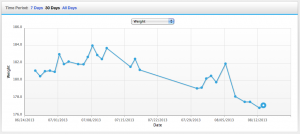 Turns out that not having an appetite and feeling to poorly to go out to eat bad food actually has effects.  As you should know by now, I don't really care much about my weight and none of my goals really have any connection to my weight, but I have a fancy ANT+ scale and it makes graphs in my Garmin Connect so from time to time I feel the need to show them and say something about it.  So, voila.  Another 5-pounds or so and I'll be close to the weight I boxed intramurals in my Firstie year at West Point (that's senior year for you civilian college goers).