I'm only posting this map shot because for the first time I noticed that there is supposedly and airport damn close to my route.

Didn't feel great on this run, combination of being rushed getting out the door and being a little underhydrated.  Gonna work on consistently drinking more water since we're getting into the hot season and I can't walk from my car to the office without breaking a sweat.  Never mind going for a 5-mile run.
I'm also going to start making 5-miles my baseline easy run again instead of the four I have been doing lately.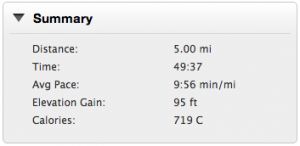 Also, before my run I knocked out my planned pushup workout.  Felt really good.  Much stronger than when I did the same workout the first time through the program.  Very encouraging.  The final set was supposed to 45(+) and I did 50.  Probably could have done a few more but I was in a hurry to get to my run.