So for tonight's run I went sans motivational music.  I was worried that I'd have trouble maintaining my pace without the invigorating strains of East Versus West and Through the Fire blaring through my ears, but I actually feel like I did a better job of being consistent across all eight intervals (a feeling that is substantiated by the actual data).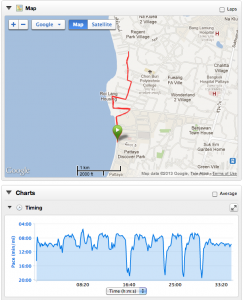 My interval laps were pretty even (for me):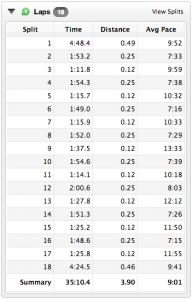 I'm going to go back and compare my last couple 8 x 400's.  What I'm looking for is the performance in my 12th laps.  I noticed tonight that lap number 12 starts off with a 100m or so of the "steepest" incline that I have on the route and then goes flat.  I pushed to maintain my pace on the incline and was totally gassed on the flat.  I feel like that lap has been off pace on other nights.  If so it's a sad commentary on my hill running condition right now.  I may have to get out of town from time to time and hit a couple of big bumps.
Also, this.

84 felt like 91 at seven o'clock at night in the pitch black in the last week of February.  Remind me to NEVER, EVER run in the daylight here.